Salmon Fishing
Salmon fishing typically involves trolling using downriggers, however, lead weights or deep divers are often employed to reach fish just below the surface. 
Sometimes, mooching or even jigging will be the method of the day for catching salmon. Typically, we use light trolling or level wind reels coupled with long (10'6) medium weight rods or, for even more excitement, salt water fly reels. 
Nothing compares to the fight of a big king salmon on fly gear and light line! Be prepared for a 30 to 45 minute battle. When fish are actively feeding on the surface, casting with light tackle can be an exciting alternative. We use only high quality light tackle to keep the SPORT in your sport fishing!
Halibut Fishing
Jigging for Halibut has proven so successful it's the only way we fish for them. Whenever possible, we fish shallow water for these pacific monsters making the fight even more exhilarating! When jigging, we use comparatively "light" 30lb class halibut gear, but for the real "sport fishing enthusiast" we use even "lighter weight" 10-20 lb class bait casting and spinning gear. Using this system will give you the "fight of your life", even with 20 to 30 lb fish. Occasionally we land fish in excess of 200, even 300 lbs on these light rigs.   A line class world record- fishing experience!
Imagine landing a 200 Halibut Ultra-light tackle! What a fight!
If you're after more action and sport, fishing for rockfish and lingcod can be some of best ever. Jigging, casting or even fly fishing for these sporty fish is fast and fun. Occasionally, we hook a big halibut using ultra-light spinning or casting gear while targeting rockfish. Wow! What a fight!
Saltwater Fly Fishing
If you want to experience the excitement of salt-water fly fishing, just let us know. We have dates and trips to accommodate you. We can show you how to catch Halibut, Rockfish and maybe even a Lingcod on a fly!  Huge schools of rockfish inhabit the rock piles and reefs of southeast Alaska.  Casting a fly to these aggressive fish is an absolute blast!   Saltwater salmon fishing can be great.  We target kings, coho, pinks and chums by sight casting near shore.  "Hunting" for these fish is exciting and the strikes are bone crunching!    All salmon are seasonal so be sure to ask when to expect the best.
Boats
Serious fishermen love our custom Built Wooldridge boats.  These offshore all-aluminum boats were specially built for Wild Alaska and are strong, safe and fully equipped.  A full hard-top design keeps you dry and warm with plenty of room to fish or relax. Each boat is 26′ long and 8′ 3″ wide and powered by a pair of quiet and clean Yamaha 4-stroke outboard motors. Each boat is equipped with new Lowrance HDS-10 big screen color sonar and GPS chart plotter. This sonar is the latest in fishing technology and helps keep you on the fish while also providing navigational information.  All compulsory USCG safety is on board including VHF radios and GPS location devices.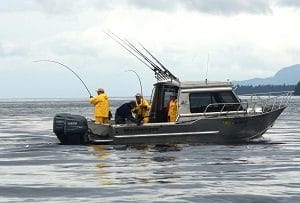 Wild Alaska also has two, 17 foot North River skiffs with 50hp four stroke engines, and two 13 foot Smoker Craft skiff with 15hp four stroke engines available for use.  They make super platforms for fly casting, jigging or just exploring.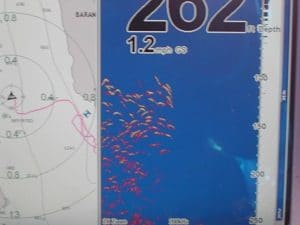 Tackle & Gear
Light tackle is the key to a fun and sporting fight while fishing. Our salmon tackle consists of PENN GT 310 line-counter bait casting reels or saltwater fly reels spooled with 20 lb. monofilament line. We use 10'6″ graphite trolling rods with super action for a fun fight
When fishing for Halibut and bottom fish, we use 7' "speed" jigging rods coupled with light weight PENN 310 line-counter reels spooled with 30 lb micro fiber line. These fine quality reels are a pleasure to operate while battling big halibut.  We jig with only light weight butterfly and knife jigs.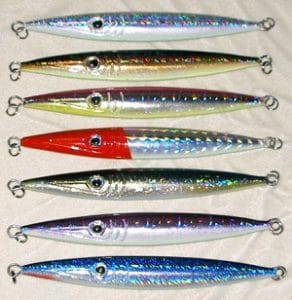 On the ultra-light tackle side, we offer PENN Battle 3000 spinning reels spooled with 20 lb fiber, coupled to a light action 7′ light weight "speed" jigging rod or 8′ medium salmon rod. Wait till you hook up, it's a Blast!
Techniques
Wild Alaska is not your "ordinary" Alaskan fishing charter. Each day we will expose you to a variety of fishing environments requiring unique approaches to fishing.  Widely varied structure, currents, fish species and habits make each day  exciting and ever changing.  No boring "sit and wait" fishing here!   We don't use heavy, deep sea tackle, or anchor up in one spot to "wait for the fish and the tide".   The guides at Wild Alaska only use proactive approaches to fishing.   Each day, you will use a variety of techniques from trolling, jigging, mooching, casting, even fly fishing if you wish.  Light tackle is the rule.  We use 20 and 30 lb class tackle- even for 2 and 300 lb halibut!   Line class world records a "reel" possibility!