Fly Fishing Overview
Wild Alaska provides anglers access to a variety of fly fishing opportunities  Seasonally, all  5 species of Pacific Salmon can be pursued in saltwater, in addition to a variety of Rockfish, Pacific Halibut and Lingcod.  This unusual and exciting slant on fly fishing offers the chance to catch varieties seldom available to fly fisherman.  Salt water fly fishing often requires different and sometimes unconventional approaches to the sport, but the results can be incredible!   With plenty of room for fish to run combined with potentially huge fish, it makes for an exciting experience.   
During early spring, focus on world class fly fishing for wild Steelhead in remote coastal streams and in late summer, you can find numerous secluded streams holding thousands of salmon.   Dolly Varden and Cut throat are also available.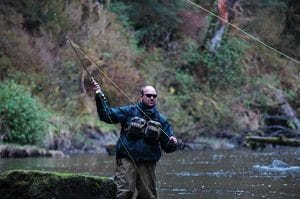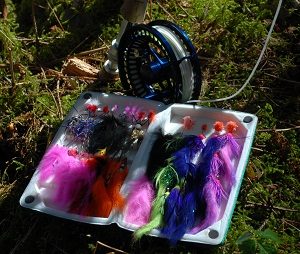 Tackle
Wild Alaska's guides are proud to use the best fly gear in the world from Loop.  8 and 9  foot, 8 and 9 weight rods for steelhead.  Floating 5/6 or 8/9 with or without optional sink tips. 10 and 20 lb tapered leaders.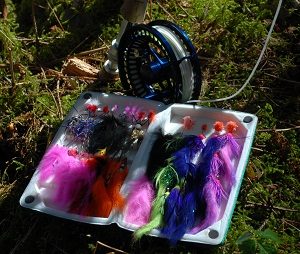 Fresh Water Species Guide
Saltwater fly fishing
If you want to experience the excitement of salt-water fly fishing, just let us know. We have dates and trips to accommodate you. We can show you how to catch Halibut, Rockfish and maybe even a Lingcod on a fly!  Huge schools of rockfish inhabit the rock piles and reefs of southeast Alaska.  Casting a fly to these aggressive fish is an absolute blast!   Saltwater salmon fishing can be great.  We target kings, coho, pinks and chums by sight casting near shore.  "Hunting" for these fish is exciting and the strikes are bone crunching!    All salmon are seasonal so be sure to ask when to expect the best.