Mission
Wild Alaska's mission is to provide our guests access to a "complete immersion" into the marine wilderness which is southeast Alaska without interference from other tourists , charter boats or human influences.  Once there, provide tools and guidance to achieve a lifetime memory including sportfishing, wildlife viewing, photography, in an up close and personal manner that cannot be achieved by any other means.  All bound in safe, warm, familiar and friendly environment created by superior crew and fine customer service.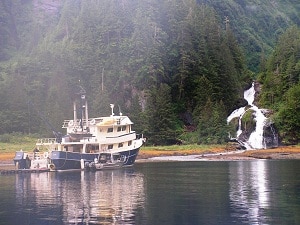 What to expect
You'll fish the calm and sheltered waters of Frederick Sound, Stephens Passage and Chatham Straight. Since we are able to reposition the yacht, each day offers new and exciting fishing opportunities. Because we're mobile, we follow the fish to keep you on the fish! Alaska weather is unpredictable, but expect temperatures from 50 to70 degrees with occasional showers. View glaciers, humpback and killer whales, sea lions and bears while enjoying the best fishing in Alaska. Have a hot breakfast, soup and sandwich for lunch, then feast on a dinner of fresh seafood. Relax evenings or continue to fish and explore on your own. We know how to have fun, so pack a smile and get ready for the time of your life!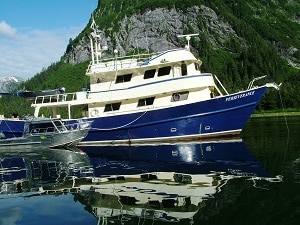 Map
Southeast Alaska
Southeast Alaska is a serpentine series of protected waterway passages between islands and fjords.  Sometimes referred to as the Alaska Panhandle, it lies just west of the Canadian province of British Columbia and 700 miles north of Seattle.  The majority of Southeast Alaska is part of the Tongass national Forest, the largest national forest in the U.S., and its northernmost rainforest. It began as an important travel corridor for native canoe travelers as well as Gold Rush steam ships, and today remains an important route for ferries, tug boats and cruises ships. Due to the rugged mountains and island composition of Southeast Alaska, few communities have roads that reach more than a few miles beyond the edge of their city.  Airplanes and boats are the major means of moving almost everything.
This area is the historic settling of the Tlingit and Haida tribes, as well as a modern home of the Tsimshian.