Fishing Overview
Wild Alaska offers a unique opportunity for fishermen in search of a remote or wilderness experience. These weekly  trips are best described as "Mother ship" excursions.  They combine the mobility and comfort of an excursion motor yacht will all the tools and toys of a high end fishing and hunting lodge.  All weather guide boats plus skiffs for self-guided adventures accompany the Mv Perseverance to the remote wilderness of Alaska's Inside Passage.  We provide serious fishing for the serious fisherman, plus the quiet relaxation and personal service of a private yacht.   Experience the same great trip that Larry Csonka refers to as "the most unique sportfishing operation in Alaska".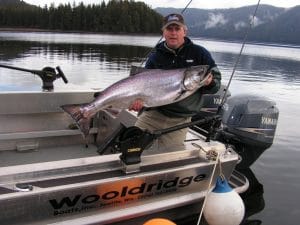 Mothership Fishing
Alaskan Mothership fishing is relatively unique. Since the yacht is our lodge, we can relocate to new and exciting fishing spot each day.  That's right, we follow the fish! We aren't tied to any specific location. No waiting for the fish to run near us, or racing to the "hotspots" to beat charter or lodge boats to the fish. Seldom do we have to run far from our floating home to find fish but more importantly, seldom do we fish near other boats! This gives us enormous flexibility in choosing when and where to fish. Think of the time you save. More time to spend fishing or experiencing the beauty of the local wildlife. 
Trips are limited to eight guests with only four guests per guided fishing boat. This private and personal environment is perfect for couples, families and small groups. What better place to be alone with friends, family, clients or coworkers?  No crowds here!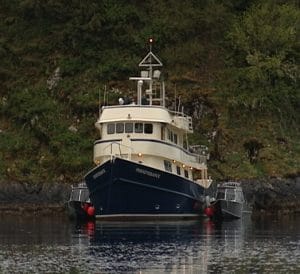 Where we fish
Wild Alaska provides its guests with access to the more high quality fishing water than any other operation in Alaska.  On a typical week, guests will "fish their way" through an 8000 square mile area of the famed " Inside Passage".  Every week is unique with our route dependent on our guests wishes.
Each day you board the all-weather boats with one of our experienced USCG- licensed guides for full day of fishing.   Don't worry about getting seasick -the sheltered waters of the inside passage seldom become unruly and the norm is to fish on calm or glassy water. Even if the wind does blow, we are always able to find sheltered water.
Wild Alaska's fishing area covers an area extending from north of Juneau, extending south to near Ketchikan and from the mainland west to Sitka covering all of central, southeast Alaska.  Expect to fish the waters of Stephens Passage, Frederick Sound, North and South Chatham Straight, Sumner Straight and all the bays, fiords and coves along the way.  This is the single largest fishing range of any operation in Alaska.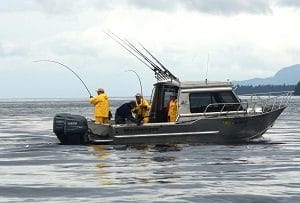 Fish Processing
Typically, the mother ship relocates each day to a new and secluded moorage while you are out fishing. Later that day, you return to the Perseverance where the crew will clean and process the day's catch. The crew filets, vacuum packs and flash freezes the fish you choose to take back home.  Commercial vacuum packers and commercial flash freezers make fast work of the job.  Frozen fish are packed in airline approved wet lock boxes at the conclusion of your excursion and are ready for your return home.  You can check them as baggage, or the crew will assist you with making shipping arrangements at one of the local seafood processors.  You'll be surprised at the efficiency of Wild Alaska's operation.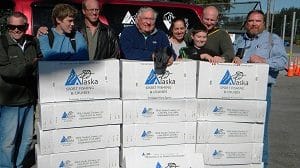 Self guided
In addition to our fully guided fishing, spend as much free time as you wish to "scratch that fishing itch." 
Each evening we anchor in a quiet and secluded cove or bay that always holds bottom fish, salmon, or both. Fish till your arms ache from one of the fully equipped 17' North River skiffs.   The many small streams teeming with fish empty in to  the many fjords and inlets of the Southeast.  Want to try your hand at some light spinning or fly fishing?  We are happy to arrange it.