Happy Cruisers
"What a wonderful experience we have had all week. Fishing, Wildlife, shrimping, crabbing and meals to die for. All the crew couldn't have done anything better had they tried."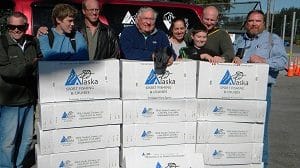 I haven't fished everywhere, but I have fished coast to coast. The week I spent aboard the Perseverance is 5 star all the way. The staff is outstanding. The guides put us on fish everyday . The only thing is the food is too good and the week is too short! John B.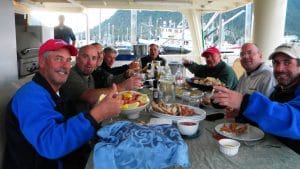 What a blast! It is hard to capture with mere words the wonders and the experience on the fantastic fishing trip.   Thanks for an unbelievable adventure.    Jim R. – California 
The food was fantastic and the fishing was unbelievable. We also had a great social experience with the crew and to other guests. We would (will) recommend this trip to all our friends. Dick and Rae- Minnesota
Professional Endorsements
"one of the five best adventures I've ever experienced, and as most of you know I've been all over the world at least twice." 
-Tred Barta, 'The Best and Worst of Tred Barta' 
"I've made eight trips to Alaska and each have been a little different. This trip has been the best of all of them by far.   The accommodations and the customer service couldn't have been any better. Thank you very much for one of the best weeks of my life."                                                Michael Deming , CEO/Sportsman's News 
Wild Alaska Sportfishing and Cruises 
is Endorsed by Cabela's and Sportsman's Warehouse!